<
CBD Pet Care: Organic CBD for Cats and Dogs
Our CBD Pet Care is an award-winning, easy-to-use product for your pet's complete wellness. This CBD gel includes the ingredient of lemon myrtle, which has antibacterial properties that can help heal small cuts, scrapes, and burns.
The Green Pet Shop, one of the pioneer companies to bring CBD to the pet industry, is proud to present the all-new CBD Pet Care Transdermal Pen.

We know humans are not the only ones who can benefit from CBD. With the use of organic CBD for cats and dogs specifically, your pet can now enjoy the wellness of CBD without ingesting a product that wasn't designed for their digestive systems to handle.


CBD FOR PETS
CBD FOR DOGS + CATS
Broad-Spectrum

Organic

GMO-Free

Safe & Certified

THC-Free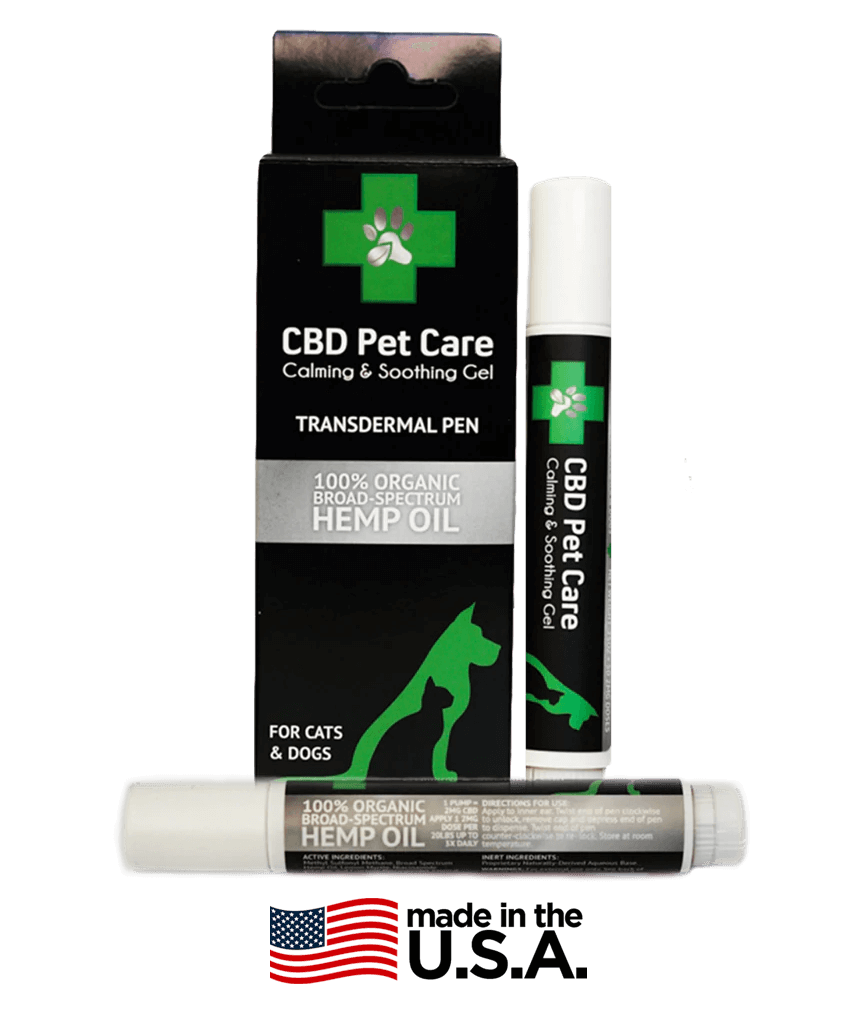 SHOP NOW
WHO WE ARE:
Here at The Green Pet Shop, we understand that your animal is more than just a pet; they are part of the family. Like any other family member, you want to be able to provide them with the best life possible. With that goal in mind, The Green Pet Shop has offered quality and eco-friendly pet products at an affordable price for over a decade, including organic and GMO-free CBD for pets.

WHAT IS ORGANIC CBD PET CARE?
Our organic CBD for cats and dogs is an expertly blended combination of sustainably sourced essential oils and broad-spectrum hemp, which contains naturally occurring CBD.
The product features a host of natural ingredients including MSM, which is rich in sulfur, and lemon myrtle. Lemon myrtle is rich in antioxidants and has antibacterial properties, and both MSM and lemon myrtle have been shown to reduce muscle and joint inflammation.
We combine our organic CBD for pets with a transdermal gel base, simplifying the application process and making The Green Pet Shop CBD one of the most effective pet products available on the market
ORGANIC CBD FOR PETS
When we were looking to expand our product lineup to include organic CBD oil for dogs and cats, we wanted to stand out amongst the crowd. Our commitment to quality is the reason why we became the first company to create a transdermal CBD product for the pet industry in 2015.
Our unique CBD gel pen is a great product to use for your dog or cat. When it is applied to your pet's inner ear flap, it has been shown to help your pet's overall wellness. The pen is easily stowed in a bag or purse, making it great for a visit to the vet or long road trips.
Not only is our gel pen convenient and effective, but it is also mess-free. The product is made with GMO-free CBD gel so that you'll know your pet is getting the most naturally produced product available.
WHY CHOOSE ORGANIC, GMO-FREE CBD FOR DOGS AND CATS?
Avoid hazardous chemicals - Non-organic hemp farmers may use pesticides, synthetic fertilizers, or ion radiation in their growing methods, and their CBD extracting processes may include harsh solvents or chemicals.
Avoid cancer-causing toxins - Studies have found residual toxins in non-organic CBD, some of which may increase the animal's risk of developing cancer.
Environmentally friendly - Organic products are better for the environment opposed to non-organic because they avoid using harsh chemicals and unnatural processes that negatively impact the land and atmosphere.
Avoid unwanted side effects - Choosing non-organic CBD for dogs and cats may increase certain issues like skin irritations, allergies, or infections that the product was intended to improve or prevent.
HOW DOES THE GMO-FREE CBD TRANSDERMAL PEN WORK?
This easy-to-use applicator is applied straight to your pet's skin, so it's able to absorb faster and more completely into the body. All you need to do is rub the recommended dose into your pet's inner ear flap. From there it takes around 20 minutes for the dosage to penetrate deep and effectively to add to your pet's wellness routine.
The Green Pet Shop CBD Transdermal Pen removes the dosing uncertainty that comes with other CBD products. Each pen contains 50 2mg doses that are pumped from the mess-free tube for easy application. All you need to know in order to find the appropriate dosage is your pet's size and weight.
Since our easy-to-use gel CBD pen is organic and GMO-free, it can be applied to your animal up to three times per day without any worry. Not only that, but you can use our product with confidence, knowing that it is both eco-friendly and contributing to other pets and their families through our partnership with Green Pet Cares.
WHAT ARE THE BENEFITS OF USING TRANSDERMAL CBD OVER OTHER TYPES OF CBD?
Anyone who has had to administer medication to their cat or dog knows how reluctant to cooperate they can be. Giving your pet oral drops of CBD, or making them eat medicine disguised as a treat can be a difficult task, and the process of digestion can also cause the product to lose a bit of its efficacy.
Transdermal organic CBD for dogs and cats is also more effective than some subdermal, or topical, treatments. Benefits of the Green Pet Shop CBD Transdermal Pen include:
● Predetermined doses based on your pet's size
● Easy and precise application to pain points not covered in fur
● Ability to identify common skin issues, like small cuts or scrapes, dryness, and irritation
● Faster and more predictable absorption
● Organic and GMO-free

The
CBD Pet Care Transdermal Pen
What makes our product superior and sets it apart from all others?
REVIEWS
We had a very nice experience using CBD Pet Care's Calming and Soothing Gel. Often we would have to give Radar a tranquilizer to trim his nails. Seven minutes after apply CBD Pet Care, he was only slightly resistant. After that, Radar never moved a leg while we trimmed his toenails. The owner was very impressed. 

THE CBD PET CARE STORY
At The Green Pet Shop, our mission is to bring unique, high quality, eco-friendly and natural products to our customers at an affordable rate. We were the first company to bring a transdermal CBD product to the pet industry in 2015. With the influx of so many new products flooding the market in recent months, we were not going to bring another new product to market unless we were confident that this product would be unique and the highest quality product on the market today.
Read More
Our Mission
Our mission is to improve the longevity and quality of life of your pet. In order to better accomplish this goal, we ensure that all of our products are formulated by a leading board-certified Animal Nutritionist. Dr. Gary Pusillo has been a staple of the pet care community for 35 years and brings his passion for healthy pets to every project he touches. His expertise has led to the creation of our flagship product, one that changed the CBD pet care industry.
In addition, we have recently created a new charitable organization called Green Pet Cares. This organization furthers our goal of providing our valued customers with eco-friendly CBD pet products, while simultaneously making the world a better place.
Our products combine the nourishing benefits of hemp with condition-specific ingredients. The variety of active ingredients in our products have been known to help to calm your pet.
Why choose The Green Pet Shop CBD?
The Green Pet Shop is committed to bringing high-quality and environmentally friendly products to customers at an affordable rate. We are committed to making the world a better place for pets and their people by improving their quality of life through all natural means.
Our revolutionary CBD Transdermal Pen was created by a board-certified animal nutritionist and is widely used by vets and pet owners alike. If you're looking for an all natural, non-GMO, organic way to target your pet's skin ailments such as small wounds and abrasions, rashes, dry or irritated skin, and more, go to The Green Pet Shop.
Contact Us
Your pet deserves the very best and so do you. Whether you are looking for a GMO-free CBD for dogs or cats, The Green Pet Shop CBD pen is just what you need to give your pet the best life possible. If you would like to learn more about the ways that our organic CBD for pets could help your critter, contact us for more information. Come join The Green Pet Shop family!